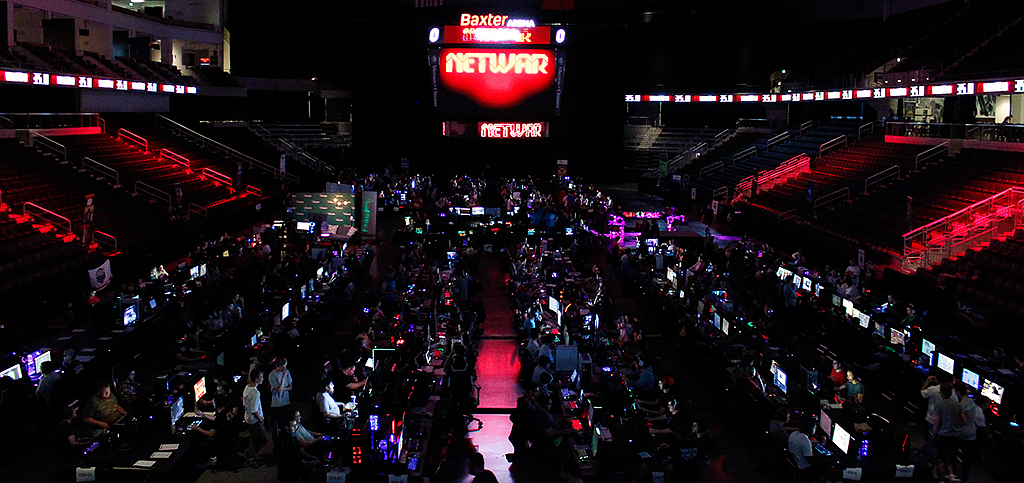 NETWAR 36.0 – This Weekend!
Greetings,
We are very excited to give you some good news on a Monday.  NETWAR 36.0 is this weekend!  The event starts this Friday, April 12th at 7pm.  We have sold 589 tickets out of our 638 seats: Only 49 tickets left.  If you have not purchased your tickets yet, do not wait any longer, as we are almost sold out!  We will again break our attendance record, making this our largest event ever!  Thanks to you all!  Make sure all of your friends and/or teammates have their tickets, like do it right now.
Volunteering
Event Doors open at 7pm
Where To Park and Enter The Venue
Self Check-In
When you arrive at NETWAR 36.0 this weekend, there won't be a registration desk.  You can head directly to the seat that you reserved, set up your gear, and get it connected to the network. You'll be prompted to check in from your computer or console before you're allowed to access the network. A paper with instructions on how to use the self check-in system will be on your table when you arrive. You will not have Internet or network access until the check-in process is complete.
If you have any issues, please come up to the staff area in the middle of the arena floor for assistance.
Know Your Ticket Code (

This is very important!

)
Know Your Seat Number (

This is also very important!

)
Important Information For Those Under 18
What To Bring
Event Schedule & Tournaments
Case Mod Competition
InsolentGnome will be judging a case mod competition at noon on Saturday during the event.  Get your rig looking pretty and you might just win!  He will have some sweet prizes for first, second, and third place.
Have you seen our recent blog posts?