What is this event?
A large scale video gaming LAN party event right here in Nebraska. As an attendee you'll bring your computer or gaming console and have a dedicated space to play video games with hundreds of your fellow attendees for the entire event!  Internet and two power outlets are provided with each seat.  Your ticket also grants you entry into all of our tournaments if you so choose to play in them.  We'll also be supporting a variety of casual game servers for leisure-play.
Download our Event Flyer, print it, hang it up or hand it out.  Thanks!
Buy Tickets / Seating Chart
Each ticket/seat grants you 32 inches width of space on a table.  If you want more table space and/or the ability to bring a larger monitor (greater than 32 inches wide) or two monitors, you will need to purchase two tickets.
Ticket refunds are available up to seven days before the event if you are unable to attend.
Spectators are able to access the event for free.
Tickets are not available at the door.  They must be purchased online in advance of the event.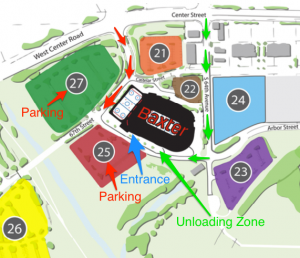 Park in Lot 25 or 27.  Enter the venue on the Southwest side where the doors are titled "Main Entrance".
Charity
NETWAR 36.0 will support Madonna Rehabilitation Hospital located in Omaha, Nebraska.  Working with Gamers Outreach, our event proceeds will be able to furnish GO Karts.  These are portable, medical-grade video game kiosks that enable hospital staff to easily provide bedside recreation to hospitalized children who are unable to leave their rooms.  Thank you for supporting our event!
Apex Legends
PlayerUnknown's BattleGrounds
Rainbow Six Siege
Counter-Strike
Overwatch
Fortnite
League of Legends
Rocket League
Team Fortress
DOTA
World of Warcraft
Minecraft
Unreal Tournament
ARK
Battlefield
Rust
Call of Duty
Grand Theft Auto
Payday
StarCraft
Left 4 Dead
Diablo
Chivalry
Borderlands
For Honor
Hearthstone
Heroes of the Storm
Quake
Halo
AND MANY MORE!