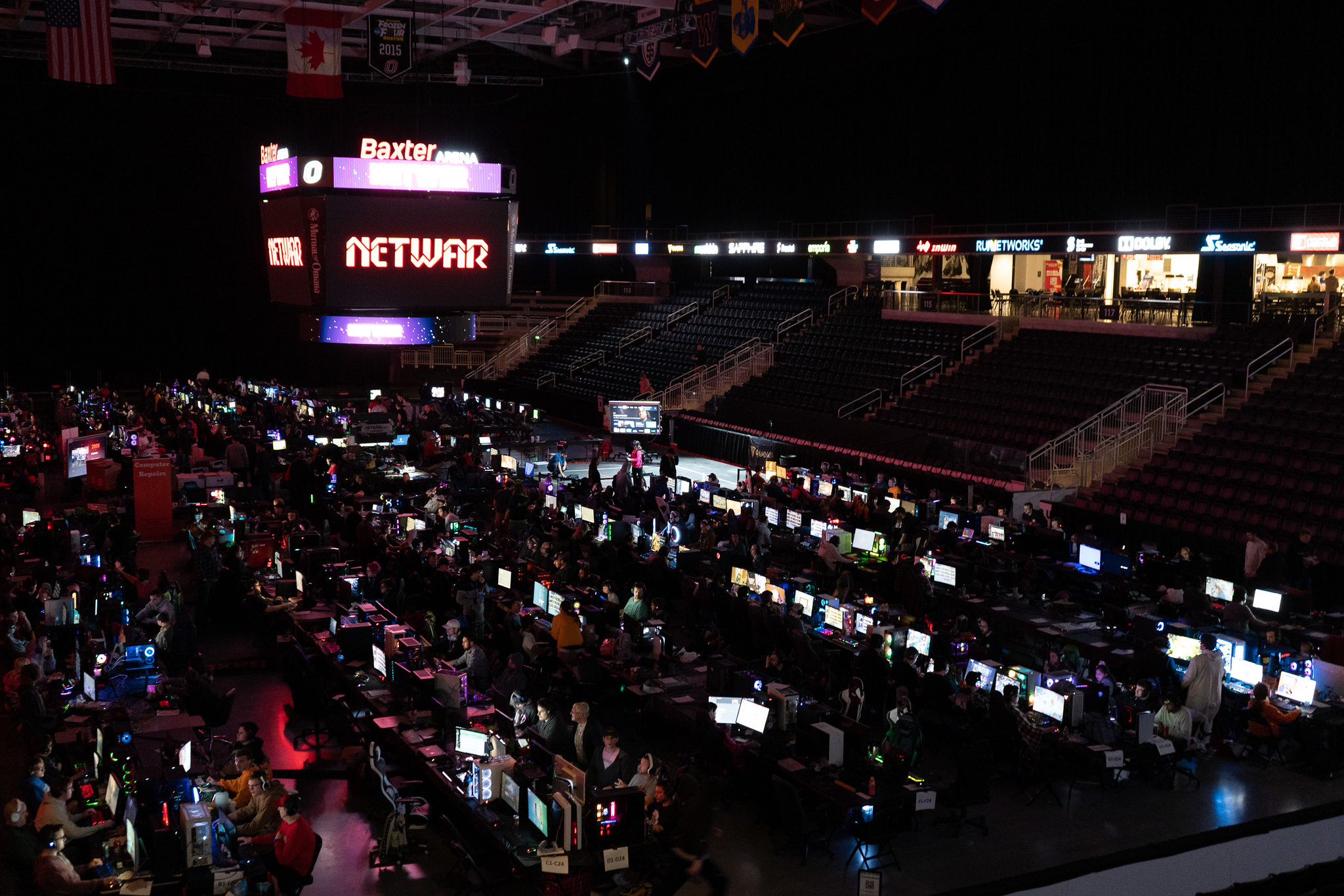 NETWAR 40.0 is in the books!  It celebrated our 20th year of hosting gaming events and was our 5th event at Baxter Arena in Omaha, NE.  We had a blast and had some new tech at NETWAR 40.0! Emporia graciously sponsored NETWAR with energy monitoring equipment that let us view and log our power usage throughout the whole event!

A Bit of Backstory
When NETWAR made the move to The Mark in 2015 we needed new power panels to supply all the PCs, monitors, and consoles. The days of power hungry CRTs are over and we have seen a lot of technological advancement making computing efficient over the years. Normally, that means more efficient computers use less electricity…but we were growing.  We needed to make sure the venue and the panels could support growing numbers of devices and changing technologies.
The Mark had previously hosted a PBA bowling tournament and had all the power we could ever need (TV broadcast trucks use a lot of power).  The infrastructure at The Mark let us standardize our panels to use industrial Camlok electrical connectors.  The panels we built for The Mark are the same ones we use currently at Baxter Arena.  In the end, each panel we built had 24 – 20 amp breakers and 24 plugs to feed devices – with 5 Camloks to feed each panel.
The Need for Monitoring
For many years, we talked about how helpful it would be to have monitoring equipment built into our electrical panels so we could have real-time insights into our power usage.  Every event we would walk around and take manual readings with an amp clamp.  This took a lot of time but it helped us confirm our planning was accurate and make sure there weren't any panels or circuits that were overloading.  With energy monitoring hardware built into the panels we would be able to easily identify a panel or specific circuit if there was a problem.  It would save us a lot of time measuring and give us constant, updated information for the whole event.
We looked at a lot of DIY and even high-end data center solutions, and they were either way too cumbersome or out of our price range.  COVID hit and we cancelled events but it gave us time to discover Emporia.  Staff member, Red, immediately hopped on Amazon and picked up an Emporia Vue Energy Monitor and a bunch of smart plugs for his house. He was super impressed so we knew this was the answer we had been looking for!
Emporia Vue Energy Monitor Installation
NETWAR wanted to kick things up a notch for 40.0 and finally implement an energy monitoring solution so we reached out to the awesome folks at Emporia. They were excited to sponsor our energy project and provided us with six Emporia Vue Energy Monitors (the three phase flavor).  We loaded up our panels and headed over to the lab to get them installed.  We won't be covering specific installation instructions as each one differs.  Emporia recommends a professional installation by electrician but they do include very detailed and thorough instructions.  These monitors install into the circuit panel so please be careful and understand the risks involved when working with electricity.  The Emporia Energy App walks through all the installation steps.  It is used to setup the Vue and connect it to wifi.
From the installation guide: "WARNING! The Emporia Vue requires installing transformers inside your home's electrical panel and working around dangerous voltage that could lead to injury or death. Emporia recommends that installation be performed by a skilled person such as a licensed electrician or other qualified professional in accordance with the regional electrical code where it is being installed. Improper installation or use of the equipment can be dangerous or even fatal. In no event shall Emporia be liable to you or any third party for any damages, either direct or indirect, arising from or related to any personal injury as a result of your failure to follow the safety information and instructions in this Installation Guide."
We have six panels that we use at NETWAR events so we split up and each did two panels.  The biggest tip we can give on the installation is read everything twice and stay organized so your panel remains clean.  Our panels aren't a typical layout but we think they turned out really nice!
The kits that Emporia provided us had 16 CTs (current transformers/sensors) for individual breakers and three larger CTs for the main phases.  We used 15 of the smaller CTs to monitor breakers 1-15 and the 16th sensor to monitor ground.  This isn't typical but we like to make sure that if there is leakage to ground we know about it.  We set up an alert that through the Emporia Energy App that would let us know if ground was passing any current.
Emporia at NETWAR 40.0
We used the phone app and beta web app throughout NETWAR 40.0 to keep an eye on each panel.  The app provides a wealth of information and a high level of granularity to the point we could see power trends that correspond with the start and end of tournament rounds.  There are a lot of parameters in the app that allow you to set up various alerts like our ground monitoring. In total, NETWAR 40.0 consumed 1,534 kwh of electricity across all the panels!
NETWAR 40.0 NOC Dashboard
We use a combination of things like LibreNMS, influxDB, and Grafana to build out dashboards in our admin area NOC.  The rotating dashboards display network stats like current network usage, graphs over time, and total amount of data used.  In the past, we've even shown the number of DNS requests and other interesting statistics.
We knew we had to incorporate the data from the Vue Energy Monitors into our NOC dashboards.  Luckily, there are a few utilities out there that helped us accomplish this task through API calls. This functionality is not officially supported by Emporia but we are grateful they don't block it.  We made sure we weren't abusing the API so we could get some basic information back for our panels.  Longshot902 worked his magic and our dashboards became a huge hit at NETWAR 40.0.  Lots of people stopped to talk to the admins about it and Longshot902 promptly ordered some Vue Energy monitors for his house!
TL;DR
The Vue Energy Monitor is an all-in-one solution for monitoring home breaker panels.
Gives NETWAR statistics to confirm our layout and plan for future growth.
Adds a layer of safety as we can see usage at any time.
Adds another really awesome dashboard to the NOC.
Let's us show off products we personally love!
Thank you Emporia for your gracious sponsorship of NETWAR 40.0!  Be sure to check out their website for all the products they make.  The Vue Energy monitor is a small part of their product portfolio.  They make all sorts of products like EV chargers and home battery systems!