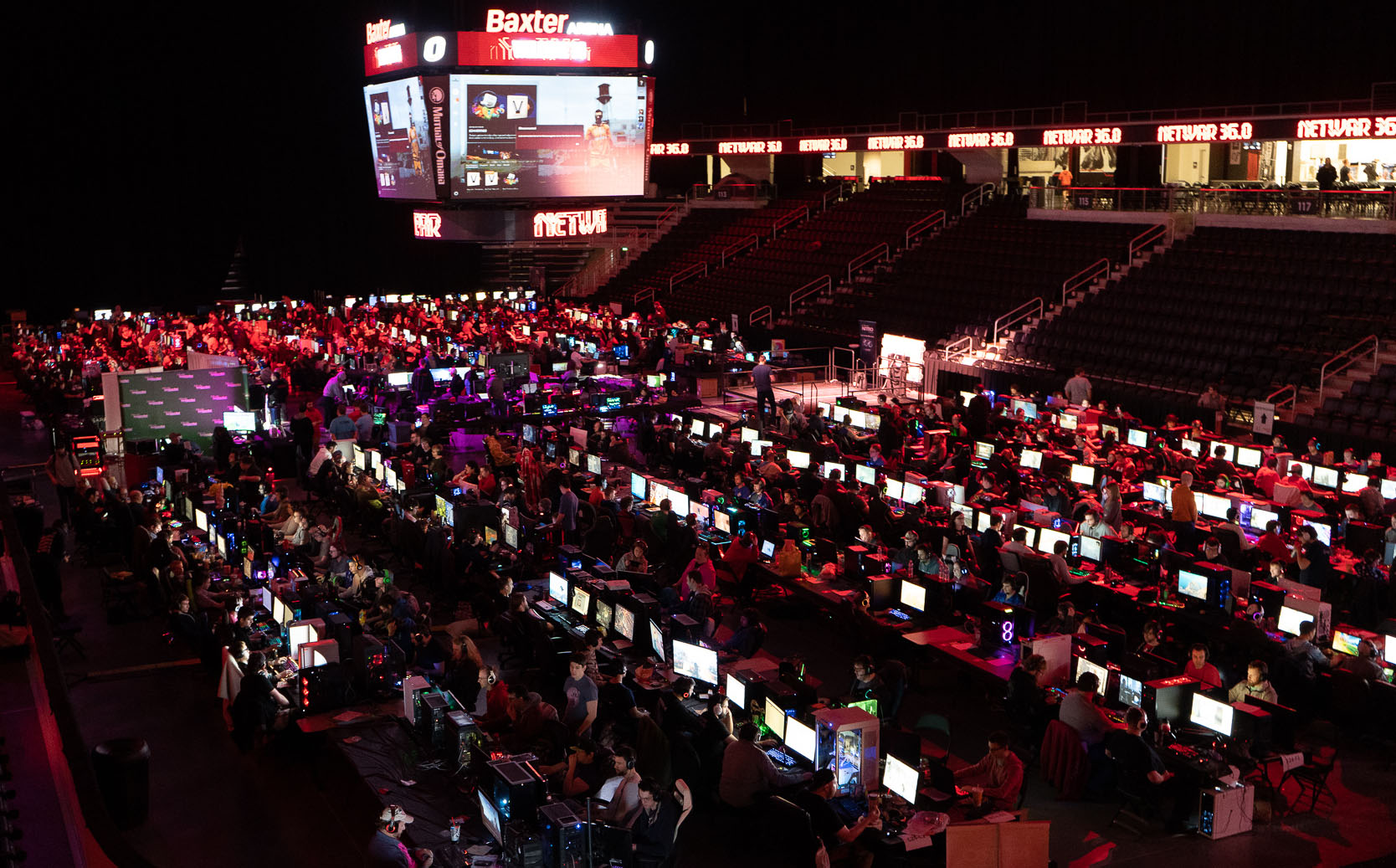 Greetings,
We are only three weeks away from NETWAR 40.0! If you have not grabbed your tickets yet, you'd better do so quickly as they are going to go fast. We are very excited about this event, we have a lot of activities planned for our 20 year celebration! Please read through this post for updates.
NETWAR 40.0 will take place at Baxter Arena in Omaha, Nebraska on Saturday, April 9th at 10:00 AM. It will run for 29 hours straight till 3:00 PM on Sunday.
Tournaments and the event schedule has been posted on the website.
Ticket Prices are increasing next Friday!
Early bird tickets are $50 + tax (purchased on or before March 25th).
People who lag will have their tickets cost $60 + tax (purchased after March 25th).
Merch
Be sure to order your NETWAR merch from our website in advance, so you have your gear shipped in time for you to be able to game at the event in style!
Case Mod Competition
The case mod competition will be at 6:00 PM on Saturday during the event. Get your rig looking pretty and you might just win!
89.7 The River – The Morning Fiasco Show
Curium, our President and the founder of NETWAR, will be on-air on 89.7 The River's Morning Fiasco Show at 8:40 AM this Friday, March 18th to talk about the event. Tune in!
Sponsors
We have brought on an enormous number of fantastic sponsors . We will have some amazing prizes to raffle off such as computer hardware, gaming peripherals, video cards and so much more! Some sponsors will have booths at the event that you can visit to learn more about their products and get yourself some sweet schwaaag!
The Gamers Oasis – a classic and modern gaming arcade in Omaha will have a massive booth at the event with retro console gaming systems for you to play including Atari, Nintendo, N64, Gamecube, etc. If you want to visit their location before and/or after the event, they are located at 87th and Pacific in the Countryside Village, or call (531)721-2501.
Retro PC Gaming Systems
Rik from Rik's Random Retro will be at the event with two 90's area gaming PCs networked together with 90's technology. They'll be ready for you to game on and relive some old but great memories. Thank you, Rik, for helping us celebrate our 20 years!
Tiny Whoop Drone Racers
Starting at 7:00 PM on Saturday, a group of local drone racing pilots will be racing micro drones through an obstacle course in the upstairs concourse area. These pilots will be flying via First Person View (FPV) goggles, bringing a video-game-like feel to the real world. Any attendees interested in checking it out are welcome to stop by and spectate, or have a chat with the pilots.
Omaha Virtual Reality – Laser Tag
Omaha VR will have a massive booth at the event. They will be hosting Versus: Virtual Reality and laser tag brought to the next level with free roam! Versus is a retro-futuristic VR laser tag. Jump into the arena for PVP battles with your V-99 blaster and tag other attendees in the arena with you. This is not a sponsored booth; Omaha VR will be charging a minimal fee to play on their VR systems.
Refunds
If you have purchased tickets and are unable to make the event, you may request a refund of your ticket up to seven (7) days before the event. Because the event will be sold out, we kindly ask that you request your refund as soon as possible to allow others to take your spot. Thanks!
For more information about the event and to purchase your tickets, visit the event website.
Join us on our Discord server before, during, and after our event.