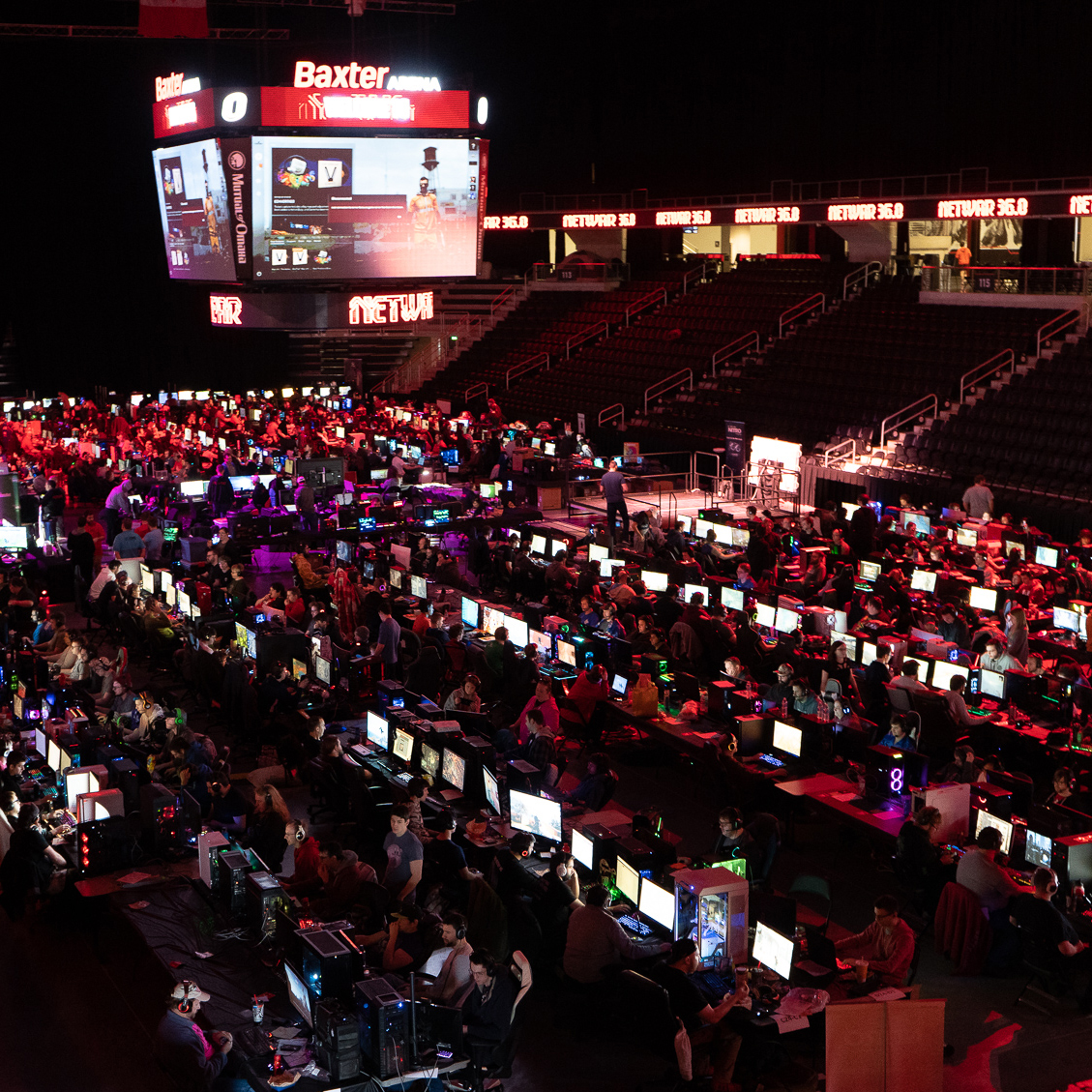 NETWAR to Celebrate 20 Years of Hosting Video Gaming Events
March 1, 2022 (Omaha, Neb.) – NETWAR, a local non-profit organization devoted to organizing video gaming events to raise money for local and national charities, is celebrating their 20th anniversary. Their next event, NETWAR 40.0 on April 9th at 10:00 am CT at the Baxter Arena in Omaha, Nebraska, marks the 20th year of the organization.  The event will run for 29 hours straight.
NETWAR was founded in 2002 by Travis Kreikemeier, "Our gaming events, also known as LAN parties, started as a way to get gamers together before the Internet was so prevalent.  Today, our events are larger and we have an amazing Internet connection, but it's still a great way to get the NETWAR community together, play the latest game titles in the same room, and support so many local charities."
The event features 736 seats for gamers to bring their own computers or gaming consoles and casually compete in gaming tournaments.  Tom White, Marketing Director and Event Coordinator for NETWAR, said "NETWAR encompasses a wide variety of activities from laid-back tournaments for all skill levels to meeting and socializing with people you can later game with online.  We are one of the largest and longest running LAN parties in the US, and take pride in bringing gamers together to positively impact the communities where we work and live."
Proceeds from NETWAR 40.0 will be used to furnish GO Karts, video game kiosks built specifically for the medical environment, to local hospitals. Each GO Kart helps nurses and child life specialists easily provide bedside recreation and rehabilitation options to children unable to leave their rooms in hospitals. The kiosks cost around $4,000 each and NETWAR has been able to provide and support 18 in the Omaha metro area. 
"Our GO Kart project has been extremely successful and is making a huge impact in Omaha," said Travis Kreikemeier, Founder and President of NETWAR. "Through the generosity of our sponsors and event attendees, we have been able to furnish GO Karts to UNMC, Madonna Rehabilitation Hospitals, and Omaha Children's Hospital & Medical Center.  We are excited to continue the project with the proceeds from our 20th year event!"
Tickets are on sale now and can be reserved by going online at www.netwar.org.